Posted by
Barbara Another Time Antiques
- #thevintagevillage #anothertimeantiques #vintage linens #butterfly #Kitsch #pillowcases #crochet lace #double bed #sheet
Price

$28.00

Ships From

New York [map]
Vintage 1930s sheet and 2 pillowcases. All with perky purple and yellow crochet lace butterfly trim and hemstitching in the same purple yellow combo. I have washed and sunned these but never ironed the set. No holes or stains. When I originally bought these they were part of a trousseau and had never been used.

Sheet: 81 x 90. The sheet has a label - Cannon 81" Double.
Pillowcases: 31 x 21 (standard pillow size)
Butterfly crocheted trim: 4 1/2 inches wide x 3 inches deep.
These are washed and clean - you need to press out the butterfly ends.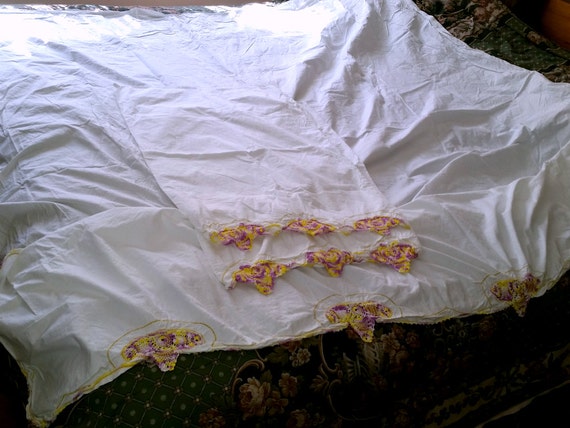 Here's a thought: great fabric for making a summer skirt and bloomers set!!
Yep - I reopened Etsy for a little while! I missed everybody and I want all my online friends to have a crack at my summer yard sale liquidations! Just for a limited time .... camping is calling!!