Posted by
Barbara Another Time Antiques
- #antique #thevintagevillage #anothertimeantiques #Tureen #casserole #transferware #Set #server
Price

$70.00

Ships From

New York [map]
Late Victorian matching antique ironstone tureens with floral transferware designs that are all enhanced with hand painting and enameling. 2 tureens from the same estate.

Because the transfers are hand applied and decorated, the position of the flowers varies slightly on each lid but the patterns are the same. The colors of the flowers are celery green, purple, brown, bittersweet orange and mustard yellows. Flowers are dotted with little bits of white enameling. I see an Iris, a mum, roses and bittersweet blossoms. The rims and handles are gold gilded.

Base opening measures 8 3/4 x 6 1/4 inches.
From handle tip to handle tip is about 12 inches.
Height to top of lid is 5 1/2 inches.

One base is marked with gold leaf in the corner: 5257 over 38. There are no other markings of manufacture. The 2nd tureen is plain on the bottom.

Both tureens are in very good condition and will enhance any festive table setting while keeping foods warm.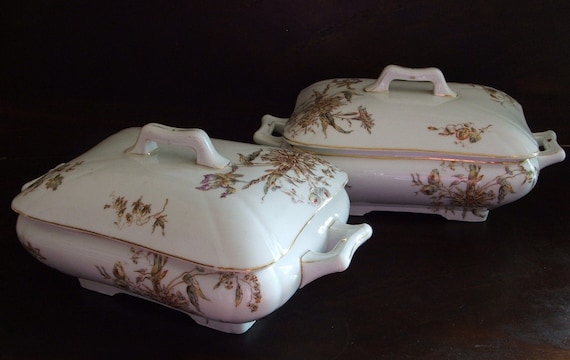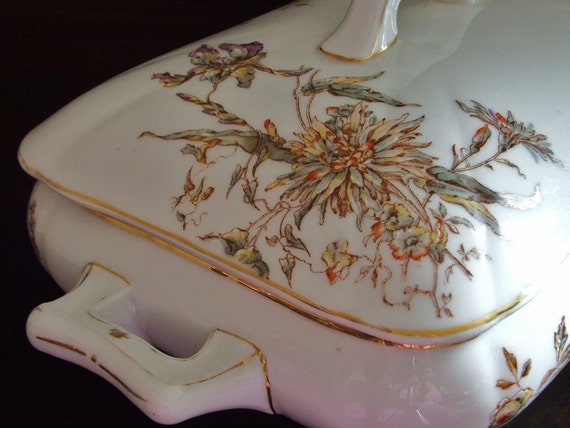 shipping weight at 9lbs