Posted by
Barbara Another Time Antiques
- #thevintagevillage #anothertimeantiques #vintage #Embroidery #napkins #tablecloth #bobbin lace #banquet cloth #fine linens
Price

$250.00

Ships From

Churchville NY [map]
Exquisite vintage Idrian lace and embroidered formal banquet tablecloth with 2 sets of napkins. Elegant dining at its best! This came from the estate of a family with long lines to Italy.

The basic fabric is a very sheer, loosely woven cotton muslin. Idrian lace is also cotton and extensive throughout the tablecloth. The set has a warm, ivory white color tone with darker ecru accent embroidery including fine shadow work.

The tablecloth measures 100 x 64 inches.

There are 12 formal dining napkins with the same embroidery and lace corners.
Napkins are 16 x 16 inches

There are 12 cocktail napkins with just the ecru flower embroidery.
Napkins are 8 x 8 inches square.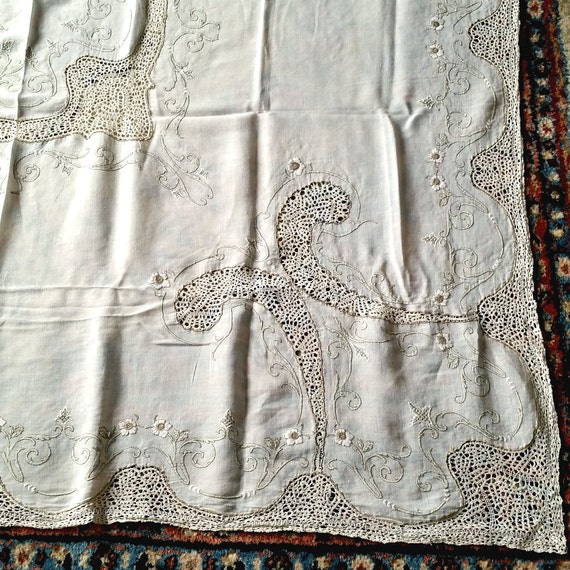 See my blog page Idrian Lace for more photos and information on the lace: http://anothertimeantiques.blogspot.com